WhatsApp, Phone: +213 662 31 31 52


We organise Private & Custom Tours of Algeria. Check out Sahara tours and bespoke tours for families , couples and friends.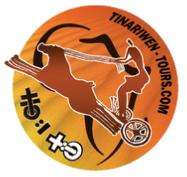 We guarantee truly memorable experiences. Our team crafts exceptional holiday experiences in Algeria. Take your pick of the tour packages through Sahara desert and let us guide you across amazing dunes and breathtaking scenery.
Customised private tours in Algeria with best itineraries. Contact us to design your dream vacation in Algeria.
We pride ourselves in our personalised travel service and off-the-beaten-track experience. As adventure Algerian tour operators we combine our local knowledge along with personal travel experience throughout Sahara Desert, to provide our clients with a complete touring services. RESERVE YOUR Algeria TOUR TODAY!
WhatsApp, Phone: +213 662 31 31 52


Email: tinariwen.tours@gmail.com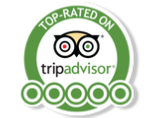 Contact us now















HIGHLIGHTS OF EXPLORE RED TADRART SAHARA DESERT TOUR FROM DJANET 5 DAYS
Immerse yourself in the traditional Nomadic culture of the Tuareg people, and discover the unique rock engravings and paintings of the region. Enjoy camel rides, traditional meals, and unique cultural experiences throughout the tour. Immerse yourself in the beauty and culture of the Algerian Sahara with Tinariwen Tours' Red Tadrart 5 Days Sahara Desert Tour from Djanet. Experience the breathtaking landscapes, traditional Nomadic culture, and unique rock engravings of Algeria's Sahara.
PROGRAM OF EXPLORE RED TADRART SAHARA DESERT TOUR FROM DJANET 5 DAYS
* DAY 1: ARRIVAL IN DJANET - HOTEL - EL BERDJ - CAMPING
Upon your arrival at the airport, you will be greeted by our team and transferred to your hotel in Djanet. In the morning, we will drive towards El Berdj, where you will have the opportunity to see some fascinating rock engravings. We will stop for lunch along the way before continuing to El Berdj. In the afternoon, we will set up camp and take our first walk in this enchanting place.
* DAY 2: EL BERDJ - MOULA NAGA - CAMPING
We will start the day by crossing the El Berdj gorge before entering a world of impressive dune height and softness. You will have the chance to see rock paintings, engravings, and a rock helicopter. Our campsite for the night will be at Moula Naga.
* DAY 3: MOULA NAGA - TAMZDIGA - IN TIHAQ - BOUHDIAN - WAN NAGN - TIN MERZOUGA - CAMPING
We will continue our journey with a trek through the red sand and pink dunes, where you will see some amazing rock engravings and paintings. We will explore the beautiful engravings of Wan Iska and take a walk in the middle of the dunes to visit a site where you can see magnificent paintings from the Neolithic era. We will also check out the Tin Merzouga dunes, which can reach up to 600 meters in height.
* DAY 4: TIN MERZOUGA - ADJLATI - CAMPING
We will cross the Wadi of Indjaren and take in some beautiful landscapes and rock paintings along the way. We will camp for the night in Adjlati, which is known for its black sand dunes.
* DAY 5: ADJLATI - TIGHARGHRT - DJANET HOTEL
On our way back to Djanet, we will see the rock elephant and stop for lunch in Tigharghrt. We will also visit the beautiful engraving of the crying cow, which dates back to 8000 BC. Upon our arrival in Djanet, we will check into our hotel, take a shower, and explore the market. We will end the day with dinner at the hotel.
Next day, after breakfast, we will transfer you to the airport for your flight back to Algiers.
Enquire Now
EXPLORE RED TADRART SAHARA DESERT TOUR FROM DJANET 5 DAYS
Join Tinariwen Tours on a Red Tadrart 5 Days Sahara Desert Tour from Djanet, Algeria. Explore the stunning landscapes of Algeria's Sahara, from the majestic Tadrart red rock formations to the serene lakes of Ihrir Oasis.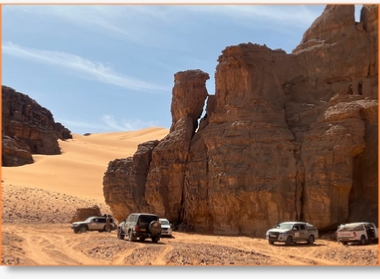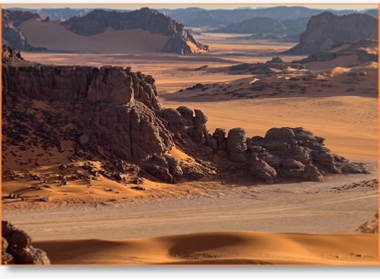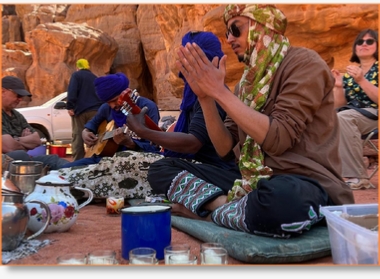 WHAT IS INCLUDED AND USEFUL INFORMATION FOR TOUR OF EXPLORE RED TADRART SAHARA DESERT TOUR FROM DJANET 5 DAYS:
Airport transfers
Accommodation in hotels and camping
All meals
All transportation during the tour
English-speaking guide
Camel rides
Duration: 5 days / Start and end location: Djanet Airport
Accommodation: Camping in the desert and hotel in Djanet
Transportation: 4x4 vehicle / Difficulty level: Moderate to difficult
Temperature: During the day, the temperature can range from 20°C to 35°C. At night, it can drop to 5°C to 15°C.
What to pack: Comfortable and loose clothing, sturdy shoes, hat, sunglasses, sunscreen, insect repellent, sleeping bag, personal medication, and a backpack.
F.A.Q. FOR EXPLORE RED TADRART SAHARA DESERT TOUR FROM DJANET 5 DAYS:
Q: What is the best time of year to take this tour?
A: The best time to take this tour is from October to April when the weather is milder.
Q: Is it safe to travel to Algeria?
A: Yes, Algeria is generally safe for travelers. However, it is always important to take precautions and follow local customs and laws.
Q: Do I need a visa to travel to Algeria?
A: Yes, you will need a visa to enter Algeria. Please check with your local embassy for visa requirements.
Q: Do I need to be in good physical shape to take this tour?
A: Yes, this tour involves some walking and hiking in the desert, so it is important to have a moderate level of physical fitness.
Q: What should I bring with me on the tour?
A: You should bring comfortable clothing, a hat, sunscreen, sunglasses, a water bottle, and any necessary medications. We also recommend bringing a small backpack for your personal belongings.
5 REASONS WHY TO EXPLORE RED TADRART SAHARA DESERT TOUR FROM DJANET 5 DAYS:
Unforgettable Sahara Desert Experience: This tour provides an exceptional opportunity to explore the unique beauty of the Sahara Desert. From impressive dunes to rock paintings and engravings, you'll have an unforgettable adventure.
Expert Local Guides: Our local guides have an extensive knowledge of the area and will ensure you have a safe and comfortable journey. They will share their experience and provide you with insights into the local culture and history.
Authentic Nomadic Experience: You will have a chance to experience the authentic Nomadic lifestyle by staying in a traditional camp with Tuareg families. This is a once-in-a-lifetime opportunity to immerse yourself in the culture and learn about their way of life.
Spectacular Views and Natural Wonders: The tour will take you through stunning landscapes, from El Berdj to Moula Naga and Tin Merzouga, where you will witness natural wonders such as rock formations, canyons, and sand dunes.
Hassle-Free Travel: With everything taken care of by our team, you can sit back, relax, and enjoy the journey. We'll handle transportation, accommodations, and meals so you can focus on making the most of your time in the Sahara Desert.
Enquire Now